5 perc elolvasni
2023.04.26.
PÁLYÁZAT CÍME:
Grow with Vodafone
SHORT DESCRIPTION OF THE PROJECT
What challenges did this project set to solve
In Vodafone Intelligent Solutions (_VOIS), we aspire to be a place where growing never stops, and everyone can truly belong, innovate, and thrive. We want to create the best possible environment and modern resources for Employees to tap into to grow their careers supporting employee satisfaction and talent retention.
DESCRIPTION OF THE GOAL
What was the goal of the implementation of the initiative/project
The goal was to support our Employees grow their careers and keep pace with the constantly changing environment while addressing one of the key reasons for leaving the organisation – career development. Grow with Vodafone is our integrated career, skills and leaming experience. An innovative, digital platform that gives the Employee the power to determine their own professional development and career direction through Artificial Intelligence driven jobs and learning ecommendations.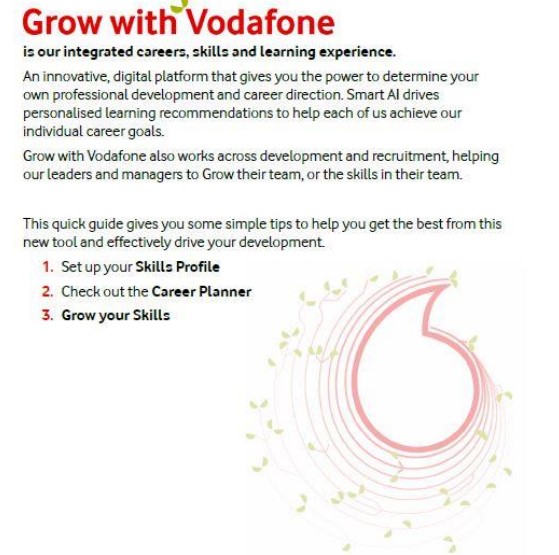 STEPS OF THE IMPLEMENTATION
The implementation of Grow with Vodafone took place in two big phases:
1. Phase 1: Minimum Viable Product (MVP) ensuring ongoing skill assessment that will create individual skill profiles to support Al driven career recommendations and development activity. We started mapping skills to existing roles according to our organisational taxonomy and generated a common job architecture. MVP launched at a lower scale within HR teams to test the functionalities and provide feedback on the user experience.
2. Phase 2: Definition of future and transversal skills, linking the platform to mentoring options and opportunity to develop skills through Projects in other Vodafone Markets (learning by doing – 70%).
The MVP was launched at the end of January 2022 and the Phase 2 started in April 2022.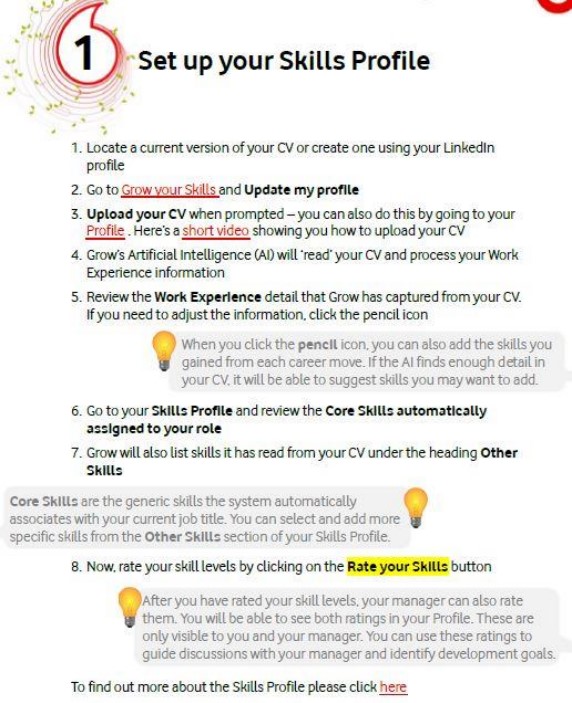 RESULTS
What are the results, outcome of the implementation of the initiative and what are the implacts on the employees, business, strategy
Currently, Grow's Artificial Intelligence uses employees' skills, skills interests, and career aspirations to identify and recommend jobs and learning that's tailored to Employees' current skill proficiency levels, driving growth in the direction and at the pace that will best help to achieve their development goals (similar approach to Linkedin).
In _VOIS Hungary, all our Employees have access to the Grow with Vodafone platform (more than 1500 Employees):
– 86% of them have already logged in to the Platform (vs. 36% in April 2022)
– 41% of them are active users (vs. 9% in April 2022).
– 78% is the Learner Reach (vs. 21% in April 2022).
– They spend an average of 7 hours per month to benefit from the learning interventions (vs. 2 hours in April 2022).
We have observed a small decrease of the attrition due to career development reasons. We still consider that implementing Grow with Vodafone is a journey and more positive effects will be seen in the coming months.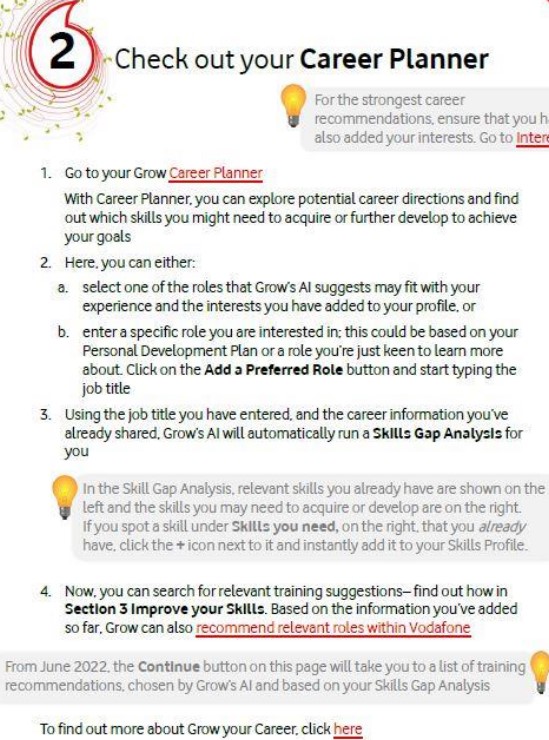 BUSINESS IMPACT
What are the advantages/benefits of the implementation on the business
Supporting the Vodafone ambition to become a Tech Comms Company, we build new capabilities that require a continuous leaning culture to develop the skills we need at scale. To achieve our mission and vision, we need to provide everyone with the tools to take control of their careers and thrive in the organisation providing visibility of the opportunities to develop and grow. Grow with Vodafone fuels our people strategy of diverse talent and future ready skills as it provides personalised learning and career recommendations enabling a continuous leaming culture and headcount/role based Workforce Planning with a lens of skills. This helps ensure we have the right people and skills, in the right place, at the right time, to support evolving workforce needs and our strategic transition to a Tech Comms Company in line with the business strategy.
LESSONS LEARNT
What were the biggest challenges during implementation and what would do differently
One of the biggest challenge was to build the Global Skills Library due to different role taxonomy used for similar jobs – > harmonisation was possible with the support from our Organisational Effectiveness team, the guardians of the Job Architecture. second challenge was to align on the proficiency levels of the skills taking into consideration already built internal tools in some of the existing business areas. The approach was to go with the global standard from learner (1) to world class (5) – the Dreyfus Model.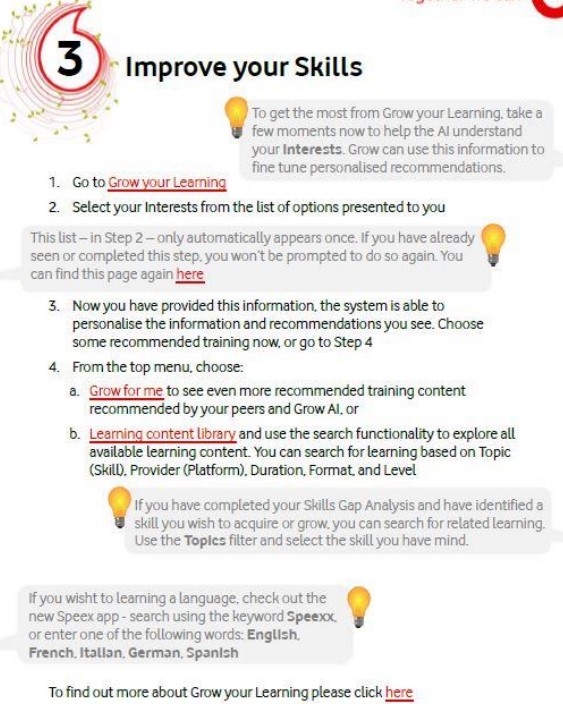 KEY OF SUCCESS
What is the one thing that made this project a success story
Shared goal : to build the future skills we need and create great individual careers for our Employees through modern resources.
COMMUNICATION
What communication channels were used during implementation
Pre-launch actions:
– Assets are created and approved
– Communication built
– Leaders toolkit cascaded via HRDs, Heads of and HREPS
– Spirit of Vodafone Day reminders.
Launch week:
Cross-channel engagement with all Employees:
– Workplace post from Global HRD with signature video
– E-mail message from Gloabl HRD with signature video embedded
– Desktop and Ms Teams backgrounds
– Visuals in offices
– Alignment with new Performance Development Year.
After-launch:
Cross-promotion of Grow with other Initiatives and announcements cross pollination:
– Senior Leader promotion.
– Global Menaupause webinar – link on Grow.
– Included material in Induction sessions.
– Dedicated communication for Employees to build their skills profile.
SUPPORTERS
Name of the colleagues whom without the project could not have worked
Emma Derby
Vanessa Clothier
Michelle Davies
Dora Debreczeni
Erika Groszman